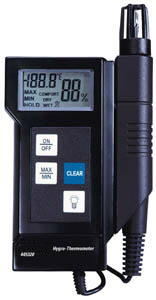 Pharmaceutical and semiconductor clean rooms where humidity control is critical.

Monitor storerooms and museums where material preservation is important.

Any work or living space where humidity is controlled for comfort or static-electricity concerns.

Climate control in greenhouses, ripening rooms and livestock production facilities.

Dew point assessment where condensation is of concern.
Full size or pocket-sized?

Humidity measuring range, accuracy and resolution.

Can the hygrometer be field-calibrated using humidity reference standards?

RS-232 communication output and PC software for data acquisition.

On-board data logging to store readings for later analysis.

Backlit digital display for easy reading in dark areas.