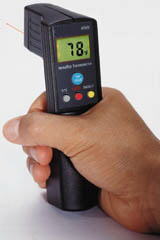 Non-contact temperature measurement of surfaces that are difficult or dangerous to reach.
Plant maintenance of motors, bearings and pumps.
Checking HVAC ducts.
Finding hot spots on electrical panels.
Checking tires, breaks and cooling systems on fleet cars or trucks.
Temperature measuring range, resolution and accuracy.

Units of measure (°C or °F).

Size and distance of target to be measured.

Ability to adjust emissivity when measuring reflective surfaces.

Built-in laser to indicate center of measured surface area.

Back-lit digital display for easy reading in poorly lit areas.

Hold button for accurate measurement of hard to reach areas.